Group Classes
All classes are taught by PGA & LPGA Instructors. We teach with the student in mind and always build a swing that's made to fit you personally. Using all the newest teaching aids and Video Swing Analysis for some of our classes. For our classes we strive to keep our Student teacher ratio to 6:1. All classes are five hours of instruction unless otherwise noted.
Class Schedule:
All group classes include five hours of instruction. Classes are led by certified PGA & LPGA Professionals. We have created an atmosphere for learning and fun! We provide golf clubs if you do not have them, please let the Professional know if you need clubs.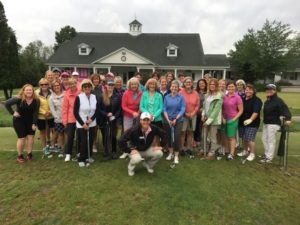 Ladies Pre-Season Golf Classes
Thursdays, May 7, 14, 21, & 28
Registration fee $149
Beginners 4:00 – 5:15
Open to any Woman who has never played golf or who has just started playing in the last few years. We will cover all aspects of the Game of Golf. Clubs will be provided.
Advanced 5:30 – 6:45
Open to any Woman who has played golf and wants to get the rust off and get a head start on the Season We will cover all aspects of the Game of Golf. Clubs will be provided.
YOUTH INSTRUCTION
Social Distancing will be in place, there will be sanitizer available as well. All Participants will be required to bring their own water.
Junior Golf Spring Lessons
5 One Hour Lessons – $105.00
Saturdays, May 16, 23, 30, June 6, 13
Junior Spring 2nd and 3rd graders – 3:00 p.m. – 4:00 p.m.
Junior Spring 4th and 6th graders – 4:15 p.m. – 5:15 p.m.
Junior Golf Camp Dates:
Monday – Wednesday (Monday and Tuesday 9 am-12 pm, Wednesday 9 am-3 pm)
Junior Golf Camps (Ages 7-16)
Our Junior Golf Camps are like no other. We have PGA and LPGA Professionals on staff who are enthusiastic and ready to help each junior reach their goals, have fun and learn this great game of golf. All camps will focus on full swing, short game, rules and etiquette. We have a golf tournament on the last day of camp along with a cookout, prizes.
$175.00
Session 1 – June 22-24
Session 2 – June 29 – July 1
Session 3 – July 113-15
Session 4 – July 27-29
Session 5 – August 10-12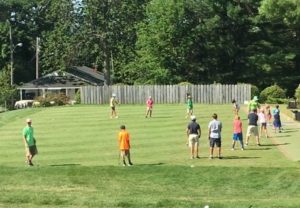 Advanced Junior Golf Camp Dates:
Mondays 1:00 pm – 5:00 pm
Open to all Juniors ages 11-17 who have a good understanding of golf, have played 9 holes previously, and are eager to learn and improve their games. Golf instruction in full swing, short game, and course management.
2-hour sessions on Monday afternoon by appointment. Please email Kaelynn Elliott
2 Students – $75 each
3 Students – $60 each
4-5 Students – $50 each
Fall After School Golf Classes
Play golf in the Fall at Kingswood. Instruction is included in all areas of the game. There will be an on-course play the last afternoon!
4:00 pm -5:15 pm $105.00
Session 1 – Wednesdays, September 9, 16, 23, & 30. Open to 1st through 3rd graders.
Session 2 – Thursdays, September 10, 17, 24, & October 1. Open to 4th through 6th graders.
Please contact the Pro Shop at (603) 569-3569 with any specific questions.