Kingswood Golf Club – Wolfeboro, NH
Kingswood Golf Club is a semi-private, classic Donald Ross (18 hole – par 72) championship course open to the public. Since 1915 Kingswood Golf Club has maintained its first-class image by being friendly and hospitable. Our reputation for providing quality and matchless course conditions to our members and day-players includes plush well-maintained fairways, velvet-smooth greens, and an engaging course layout to rival some of the best courses in the USA. The course offers a range of challenges from lengths of 5045 to 6366 yards, and 4 sets of tees with slopes from 118 to 134.
Important COVID-19 information
Kingswood Golf Club is open to members and guests from all states.  
Kingswood Golf Club takes your health and welfare seriously. We remain committed to keeping a robust cleaning process in place to ensure sanitary food preparation for our customers. In addition, our staff adheres to a strict "physical symptoms" notification protocol. While we cannot prevent the spread of any disease, we have taken every measure to properly address public health concerns.
The Full Belli Bar & Grill has indoor and outdoor seating, pick-up.  Hours are 11 am to 8 pm daily. Call 569-9869 to order or for reservations. Members can charge to their account.
The health and well being of our golf community is very important to us.  Do you have respiratory symptoms such as a cough, sore throat, fever, or shortness of breath?  Have you experienced flu-like symptoms such as muscle aches, chills, and severe fatigue in the last 72 hours?  Have you noticed a change in the taste or smell of foods?  If you can answer yes to any of these questions, please stay at home for at least 72 hours after the symptoms have passed.
Play Safe, Stay Safe!
The course is closed for the season but our restaurant and simulators are open.  Please call (603) 569-9869 to book your tee time, join the winter golf league, or to make a dinner reservation.
Check out our fantastic Golf Club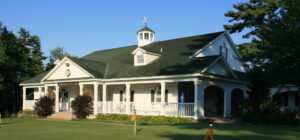 Kingswood has it all for you: a driving range/practice area, 2 putting greens, a fully stocked pro-shop, golf lessons, club rentals, golf carts, and the Full Belli Pub & Grill offering full-course meals, affordable pricing, and impeccable service.
If you want to put your game to the test on a challenging and historic course, call 1-603-569-3569 and reserve your tee-time.
Kingswood equity memberships are available. Please call our business office at 1-603-569-3524 for more information.