Kristy Gleason, PGA Head Golf Professional, Kingswood Golf Club
Kristy was recently selected by the PGA of America to the PGA President's Council. This award is given to PGA Professionals in good standing that meet the criteria of exceptional involvement in the PGA of America's Play golf America and growth of the games initiatives.
Kristy was considered for the New England PGA Section's 2011 Presidents Plaque Award as well as the PGA of America's National President's Plaque award. In 2014 Kristy was selected by the PGA of America as a top 5 PGA Best Practice for her "Ladies Play Night Program". An on course instruction program fostering a welcoming environment for beginners and women looking to enjoy and improve their game. Additionally in 2018, Kristy was published in PGA Magazine and GRAA for a Best Practice in "Giving back to the community".
PGA Golf Professional Kristy Gleason has an infectious positive attitude and zest for the game of golf. Taught under the tutelage of Golf Magazine Top 100 Teacher Dr. TJ Tomasi, David Leadbetter Senior Instructor Scott Holden, Dr. Jim Suttie,, Mike Adams and E.A.Tischler with Bioswing Dynamics.
Kristy played professionally full time on the Ladies Futures Golf Tour for two years. She had her swing reconstructed by Dr. Tomasi so it would hold up under tournament pressure. Because of those two years, Kristy truly understands what her students are going through when they are taking lessons. Her golf students and members both admire and respect her for she leads by example. 2009-2018 Kingswood Golf Club; Established and built a successful golf academy providing programs to accommodate golfers of all skill levels. Many of her students consider her as a mentor, coach and role model. Throughout the last 15 years Kristy has been teaching golf to new golfers, club champions, all ages and all skill levels. Kristy taught at the 2005 Merrill Lynch Skins Game where Annika Sorenstam, Fred Funk, Fred Couples and Tiger Woods competed. In 2009, Kristy shared the cover of the book "It's good for your game" written by Dr. T.J.Tomasi.
Kristy was nominated by her peers for 2008 Teacher of the Year by the South Florida PGA section. She was nominated for NEPGA PGA Teacher of the Year in 2015 and in 2016 she received the NH Chapter teacher of the Year award. In 2015 Kristy was the PGA featured Instructor at Fiddlesticks Country Club, Ft Myers LPGA Hall of Fame Golf School. Additionally Kristy was Nominated for Junior Golf Leader of the Year by the PGA NH Chapter in 2016 and served on the Board of Directors 2016-2017. As a player Kristy holds the Women's course record at Owls Nest in Camden NH (68), and at Kingswood Golf Club (68) where she is currently the PGA Head Golf Professional. Please contact Kristy if you are interested in taking Private Instruction, one or Two Day Golf Schools, Group lessons, on Course Lessons.
In the winter months Kristy teaches at the "Golf Channel Academy with David Impastato" in Fort Myers FL as a GCA Staff coach. Kristy is a Callaway Staff Professional and also serves on the Foresight Sports Advisory board.
Heidi Papoosha, LGPA Director of Instruction

Heidi returns to Kingswood Golf Club from Wyndemere Country Club located in Naples, Florida. Heidi was the Lead LPGA Teaching Professional and WLL Tournament Director. Heidi has been recognized by her LPGA peers and nominated as a top LPGA Teaching Professional. Formally the Director of Instruction at Lyman Orchards Golf Academy located in Middlefield, CT where she developed, organized and administered the golf curriculum. Heidi was mentored by Dr. TJ Tomasi (Golf Digest top 100 teachers, author of over 14 golf instruction books.) She trained and instructed with Dr. Tomasi for 4 years. Specifically, Heidi coached and managed a successful women/junior program at the Academy. In addition, Heidi operated/instructed Corporate Clinics for Merrill Lynch, Prudential, Callaway and Investment Firms.  Heidi was also the Assistant Golf Coach at Yale University , working with student/athletes swing, mental approach and course management.  Heidi teaches all ages and different skill levels.
William See, Assistant Golf Professional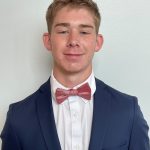 We are excited to have our newest addition to the Golf Staff, Assistant Golf Professional William See who is a PGA Professional Golf Management Intern from Florida Gulf Coast University. He is a stellar Student Athlete , highly motivated, has experienced internships and served as an Assistant Golf Professional at Magnolia Pointe Golf and Country Club , Green Cove Springs , FL and at The Golf Academy of North Florida. William will serve as the Kingswood Junior Golf Ambassador. He is US Kids certified and is involved in community based and golf activities including working at this past weeks 2022 Players Championship at TCP Sawgrass in Ponte Verda Beach, FL. He is thrilled to join the Kingswood Golf Operational Staff.