Welcome to the 2020 Season of Winter Golf here at Kingswood Golf Club.
We are open to the public!
We hope you will join us for Leagues for both Men and Women, Tournaments, Special Events and Lessons.
Kingswood Golf Club's Simulator Program
Book your golf by the hour, or half hour. Rental fees are per hour, not per person, so up to 8 people can play on a simulator at the same time for the same cost as one.  Forget popping balloons and donkeys with no tails…Why not book both simulators for your event or birthday party?  Don't have clubs?  We have rentals available!    
Do you golf more than once a week?  Consider a Winter Golf Membership!
Membership benefits include:
7 day advance for tee time bookings
A 20% savings on simulator rates
Ability to book up to 4 hours of consecutive time on either simulator
To become a member, please contact the business office at (603) 569-3524 or email us at kingswoodgolf@metrocast.net
The Hours
Wednesday – 11:00 am – 8:00 pm
Thursday – 10:00 am – 8:00 pm
Friday – 11:00 am – 9:00 pm
Saturday – 10:00 am – 7:00 pm
Sunday – 9:00 am – 3:00 pm
The Season
January 2nd – Spring Opening Day
The Golf
We have two simulators side by side with course choices from around the world. Golf balls are provided.
The Rates
Simulator Rates                                   1 Hour            1/2 Hour             *10-Play
With $125 Simulator Membership      $30                       $16                      $135
Without Simulator Membership          $38                       $20                      $175
* Pay for 10 half-hour sessions and get the 11th half hour for free.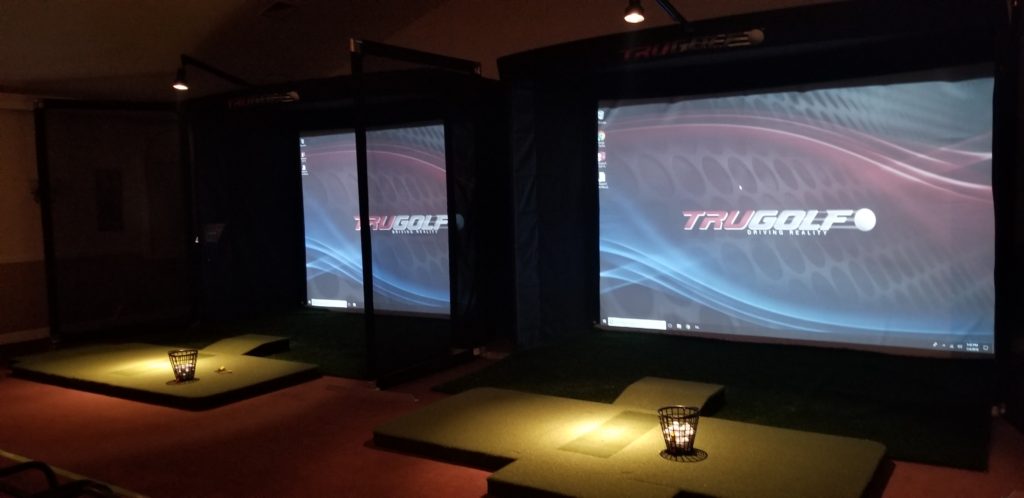 Lakes Region Golf Simulators
The Technology
THE TRUTRACK2 SYSTEM
The TruTrack2 captures critical data, as it happens, at the Point of Impact.
Our system, based on patented technology, uses three rows of optical sensors that measure your club path and clubface angle during impact. After every shot, we analyze and show you information instantaneously, on a clear, easily understood Swing Analysis screen.
The TruTrack2 is built using a real-feel golf mat. This golf mat lets you swing down and through—giving you the most realistic practice possible. It also helps improve ball striking by providing real feedback on club-turf interaction.
Coupled with the TruFlight Tracking System, this dual tracking technology captures every shot for the most complete simulation experience, tee-to-green.