Our Golf Simulators are open to the public.
PRICING & HOURS of OPERATION
Monday – Thursday
11am-3pm -$20/hour
3pm-Close – $25/hour
Friday-Sunday
11am-Close – $30/hour
Hundreds of courses to choose from.
Please call 569-9869 or email contact@thefullbellideli.com to sign up for a tee time or winter golf league.
E6 GOLF COURSES have long been recognized as some of the most beautiful places on earth. Each course is carefully crafted to accurately replicate them down to the finest detail. Not only do they have the same look and feel of the real golf courses, but they play like the real golf courses as well. Enjoy the most prestigious golf course library, with 87+ courses currently available. According to Golf Digest, 18 of our courses are ranked in the "Top 100 Courses in America", 23 are ranked in the "Top 100 Courses in the World", and 32 hold televised events.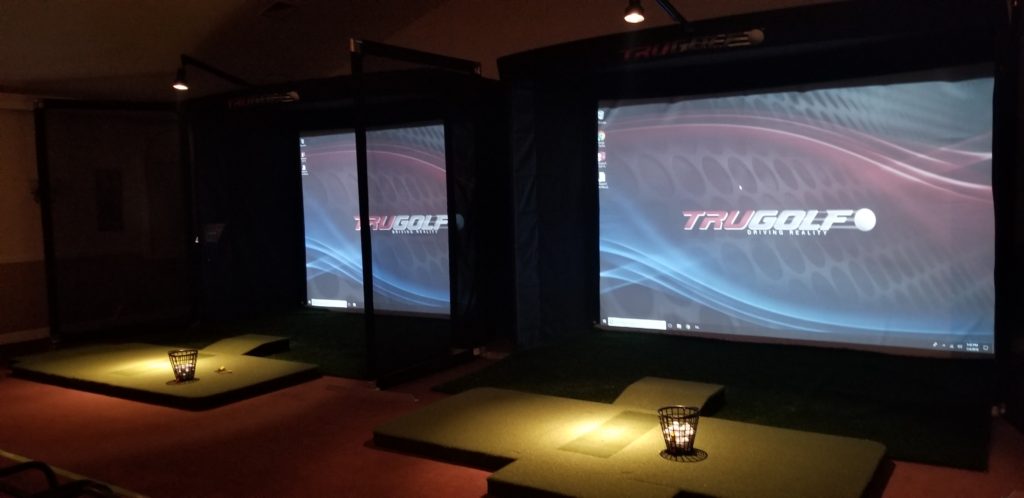 Lakes Region Golf Simulators
The Technology
THE TRUTRACK2 SYSTEM
The TruTrack2 captures critical data, as it happens, at the Point of Impact.
Our system, based on patented technology, uses three rows of optical sensors that measure your club path and clubface angle during impact. After every shot, we analyze and show you information instantaneously, on a clear, easily understood Swing Analysis screen.
The TruTrack2 is built using a real-feel golf mat. This golf mat lets you swing down and through—giving you the most realistic practice possible. It also helps improve ball striking by providing real feedback on club-turf interaction.
Coupled with the TruFlight Tracking System, this dual tracking technology captures every shot for the most complete simulation experience, tee-to-green.